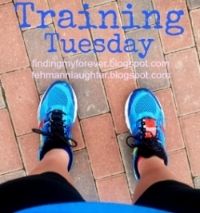 This link-up is just a way to talk about training [in any way, for anything] to help hold ourselves accountable and possibly brag a bit. I mean, you ran 1 mile without stopping – you totally deserve a chance to brag about it! That shit is hard. You did 10 push-ups in a row, HOLLLEERRR.
My Training
I think I only worked out once last week, okay, wait no, I don't think I did. Unless you count my race I had on Saturday (a 5k). Oh, and I did run 2.4 miles yesterday. So, 5.5 miles this past week – not wonderful, but definitely not horrible (please remember these are my own standards, and have no relation to whether you did 0, 1, or 20 miles. In any case, you're fucking awesome. 'nuff said.)
I'm trying to amp up and get ready to increase my mileage for the fall race season. I haven't ran anything further than 3 miles in months. Which normally wouldn't be a big deal, but I've got some training schedules to pound out.
Specifically, a marathon training schedule. No, I haven't signed up for one, but I plan on it. It's just narrowing down the one I want, waiting for registration to open, and then downing a cold one before I hit "PAY REGISTRATION FEE" to make it official.
I'm trying to figure out the weeks between some of my fun runs & my longer distance runs, so I don't stray so far off track that I'm dead by mile 15.
Ha, mile 15. Is it weird that I got a little excited when I typed that?
Did you say no? You must be a runner.
Did you say yes? Then it looks like I need to get on the motherfucking ball and sign you up to run with me. :)
Other news
My dear friend, Katie from State of Change, is now a certified personal trainer! She is offering a wonderful special on her facebook page for 50% off online training plans. And yes, I totally already emailed her to see what she could do for me. I trust her that much. You can shoot her an email or better yet, like her FB page. You won't regret it. I promise. (This is not sponsored in any way, like I said, I just believe in her and what she's doing.)
I've lost 6 lbs! More on how & what I did & how I swear I'm not a sell-out later this week.
I wore pink shorts to work out in today. Nothing special about them other than they're new and made me feel super good.
Link up and let me know how your training is going!