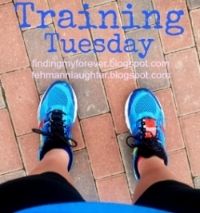 This link-up is just a way to talk about training [in any way, for anything] to help hold ourselves accountable and possibly brag a bit. I mean, you ran 1 mile without stopping – you totally deserve a chance to brag about it! That shit is hard. You did 10 push-ups in a row, HOLLLEERRR.
My Training
For some reason I didn't document my workouts last week on dailymile. Weird. Basically I have no recollection of exactly what I did. I know I worked out on Wednesday & Thursday because I was stupid sore on Friday and on Saturday for the 5k I ran.
5k spoiler alert: I did not PR. But even if I did, I wouldn't know since the race administrators forgot to put our timing chip in our race bag, so yeah. We weren't timed. I was going to upload what my Garmin says but apparently it's dead and I don't have the cord to charge it. It was somewhere around 37:22 I think.
I'm all out of shape for Training Tuesday. Ha. Out-of-shape. I kill me.
I did feel super adorable though in my running skirt. So I caved and bought another one. Different brand, so fingers crossed it works just as well!
I'll post a review of the race soon – even though I have limited pictures (uh, pretty much just the one you're seeing above) Bad blogger award goes to meeee.