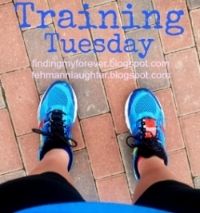 This link-up is just a way to talk about training [in any way, for anything] to help hold ourselves accountable and possibly brag a bit. I mean, you ran 1 mile without stopping – you totally deserve a chance to brag about it! That shit is hard. You did 10 push-ups in a row, HOLLLEERRR.
My Training

Uh. Non-existent with the exception of working out pyramid style with Moj yesterday. We did an exercise – 50 seconds on, 10 seconds off – then went to the next one. There were 10 in total. But the thing was we'd do exercise 1 & 2. Then you go back and start at 1, then 2, then 3 THEN go all the way back to one. Until you made it through all 10 exercises.
The first & third exercises on the list were push-ups & burpees. Basically, I hate my life today.

I have a couple of races lined up for the end of the month, one of them is a Color Run – woohoo! If you're near Temple, TX and want to participate here's the link, we chose the 9:15 heat. We'd love to have you. I have a couple of girls I graduated HS with doing it too (Hi Lori & Sara!) – actually it was their idea.
Class of '02' in da houuusee.
The other one is the Polish Pickle Run. You guys, I like big races, but I LOVE small ones. Firstly, it has pickle in its name – you can't beat that shit - and the top prize is your choice of a heifer calf or $500. According to their website, people have actually taken the calf before – I'm not surprised because uh, I live in Texas and that seems normal, but for any of you that aren't from around here – it's legit. We like cows and also hay, since 2nd prize is either 30 bales of hay or $100.
Like I said, I love small races.
I don't really have anything else to add to this. I'm boring in that way.
Tomorrow is National Running Day, so of course, I'll be running. Will you?