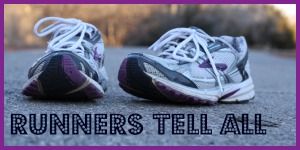 You know, I've been running consistently for at least 2 years and I don't think I've once talked about my running gear in a post. I mean, a mention here or there, sure – but nothing specifically about what I use/have for my runs. Thank goodness for this link-up (join here!)
When I first started running, I just had cotton Wal-Mart capris and t-shirts and those did me just fine – but when I realized I actually enjoyed it and was signing up for races left & right, I decided to take the plunge and buy a few running specific items. I could certainly do without these, but they make it easier for me to get out the door and truth be told, they make me feel like an actual runner. Like, I'm not faking it when I put on my shoes and watch and runner fanny pack (yeah, I got one of those) and my own personal sassy man. I like to think I'm the real deal.
My Go-To Gear List
Shoes. I've been wearing Mizuno Waveriders (I'm currently in the 16s in the picture above –Christmas present from the husband, but lived in my 15s forever) and I love them. They give me enough support without feeling like they weigh me down. Shoes are different for everyone, so I would highly recommend getting fitted. I actually did that when I got serious with running – you can read about that process here – it was, uh, interesting but not scary at all. If I can face my fears of having man-feet, you certainly can.

This selfie shows off my shoes, but mostly it just proves that I'll never be a fashion blogger. Ever.
Garmin 405cx. This watch lets me know how slow fast I'm going and my elevation and even where my heart rate is sitting at (if I ever actually wear the HR monitor) and so many other things that I don't even use. I bought it on a whim, well before I actually even needed it. I was a little excited about my running future and wanted to feel like a real runner.
For the first year of my running escapades I lived on the treadmill, so the only time I needed/wanted it was during my races. Looking back it was not worth the price (for me) because of how little I used it in that first year, but it definitely has had my back this past year as I finished my sixth half-marathon and my non-marathon.
Basically, if you're starting out I would not spend this much money on a watch ($180 at the time, on sale). You live, you learn right?

Wireless headphones. These were a surprise Christmas present from the husband. I knew I was getting new running shoes (above) and even though I dropped a ton of hints (as in, "HEY ALFRED I WANT WIRELESS HEADPHONES, KAY?") I didn't expect to get them because, uh, they can be pricey and he kept telling me "NO. YOU DO NOT NEED THEM." He was right, they are not a need, I mean, my regular headphones do just fine. So, I was way pumped about them come Christmas morning. Alfred picked out the Motorola S11 HD Wireless Stereo Headphones on the recommendation of the guy in the store (it was either Radio Shack or Best Buy). The instruction manual said they'd be good for only an hour of play time, but I've used them in two of my half-marathons recently for the entire 3 hours of running and they were still going strong afterwards. WINNING. They're actually really comfortable and don't interfere with my swanging ponytail at all. If you have extra monies and love your jams, I definitely recommend a pair.
Moving Comfort Sports Bra. I have a few of them (all bought on sale because pricey) and they are fantastic. My favorite ones are the ones set up like 'regular' bras where I don't have to pull a boob-sweat soaked racer back over my face to get it off.

I don't consider myself huge in the chest region but I'm big enough that I need support (at a 'full' C, sometimes I get into the D range) and despite my best efforts, the cheapie Wal-Mart bras don't cut it for me past the 10k mark. They chafe me every time. It doesn't look like much but I promise you, it hurts like a mofo.

A couple places where I consistently find cheap, great workout clothes are Zulily and Sierra Trading Post.
What's your favorite running/workout gear?