One of my favorite running blogs/buds – Amanda from The Lady Okie – is hosting a monthly linkup for those of us that are crazy enough to run for fun (or for Oreos, in my case). On the 21st of each month we will write a post (prompts are already given to us) and linkup to share stories & really connect with other crazies. If you're a blogger & any kind of fitness junkie (a new one or an old one!) you should definitely join in on the fun! If you're not a blogger I would still check out the others that link-up and read through their posts – I'm sure there's going to be information/motivation/inspiration galore!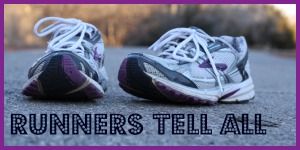 February 21 - How and Why You Started Running in 250 words or less.
What's your running story? Give us the short and sweet version.
My first race was in January 2010 simply because I saw a friend post on Facebook about completing her first 5k. She also looked amazing, so that didn't hurt my reasoning either.
I had recently lost some weight (trying to conceive and all that jazz) and barely trained for it (only running a mile before tackling the 3.1) I didn't really enjoy it and was kind of eh about the entire experience.
January 2010 with my coworkers at the time
My daughter was born in November 2010 and the 60 lbs I gained did not come off as expected. I moaned/groaned until January 2012 when I finally bucked up and decided to do something about it.
At a baby shower with my night time BBA buds before I started running.
I registered for that same 5k again on a whim. Unfortunately, it wasn't even eh this time around – it was completely effing miserable.
I felt like a failure not only to myself but to my daughter as well. I wanted to be that active parent who could actually play with her kid outside. So, I signed up for another 5k in March 2012. I took 9 minutes off my time from January and there was no turning back once I ran through that finish line.
My Emilie ran it with me and yes, we totally wore those medals for the rest of the day.
Since then, I've completed 5ks, 10ks, halfs and I'm about to run my first full March 2nd, 2014. Woohoo!