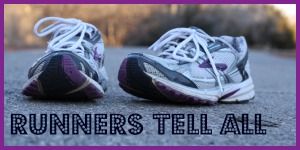 Your Favorite and/or Proudest Running Moment
Crossing that first finish line? Running a mile without walking?
What's your proudest running moment to date? Brag on yourself!
When Amanda first mentioned this link-up, I scanned all the topics with excitement trying to figure out what I'd post for each one of them, and I knew – without a doubt – that when this topic came up what I would choose. I just knew it'd be the moment I crossed the finish line of my first marathon. (This link-up started a couple months before my race.)
But that didn't exactly pan out like I wanted, so while I'm very proud of what I did accomplish, it's not at the top of my list when I start scanning my brain for great race moments over the past 2 1/2 years. (Dudes. I've been actively running that long, CRAZY.)
The thing my mind always settles back into is my third half-marathon – The Bearathon. In that blog post, I explain a little why it meant so much to me at the time but to sum it up – it was the race I had worked for (in my mind) for at least a year. It was ultimately my goal race, even though it wasn't technically my first half.
Everything just came together – the weather was great, I felt strong (despite the freakish hills), and I made sure to enjoy every single mile (even when I wanted to chew my legs off and jump in a taxi). There was also no one there at the finish line for me.
Does that sound sad? I promise, it wasn't.
It made it full circle for me. No one was there to push me to start running, I was just there – alone in a gym, scared as hell that people were going to judge my 200 lbs of awesomeness for jiggling on a treadmill but I did it. And I did it over and over again, until finally – there I was alone at a finish line knowing I fucking did it. And it was wonderful. I proved to myself what I was capable of and …then I videoed my reaction. I'm glad I did, it serves me a good reminder of who I was, who I am and who I'm going to be.