It's another Training Tuesday, so you know what that means!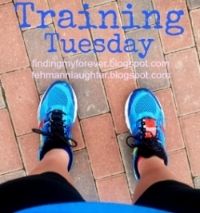 This link-up is just a way to talk about training [in any way, for anything] to help hold ourselves accountable and possibly brag a bit. I mean, you ran 1 mile without stopping – you totally deserve a chance to brag about it! That shit is hard. You did 10 push-ups in a row, HOLLLEERRR.
And even if you're not training for anything, you're just putting yourself out there to be healthier, to get slimmer, to
whatever
you can share it on Training Tuesday. Let's say you were sitting at home and instead of eating a carton of Oreos you instead ate 20 baby carrots and just imagined they were chocolate-y crèmey goodness [hypothetical situation, of course] – share it here!
Abbey & I don't discriminate – we congratulate.
Grab the button above & link-up below to let us know what's going on for your Training Tuesday (or any day really, linking up throughout the week is good too!)

My Training
4/9 – 30 Day Shred Level 1.
4/10 –50 minutes of stairs. I wore a shirt I won from #RunMeganRun and Viewsport that is sweat-activated, and yep, it sure was. It's supposed to say BOOM, but apparently my muffin sides don't sweat as much as my tramp stamp. Who knew? I'll do more of a review on it in a later post.
4/11 – 30 Day Shred Level 1.
4/12 – Snooze button Friday. No workout.
4/13 – 30 Day Shred Level 1 in the morning before a niece's birthday party where I went roller-skating. Yeah, first time in like 15 years so my quads were a little sore the next day. I also got in a gladiator ring for Alfred's birthday party…so uh, that probably didn't help any either. I have pictures involved in both of these situations…be patient grasshopper.
4/14 – Sangria hangover workout. I'll let you use your imagination as to what that entails.
4/15 – 30 Day Shred Level 1.
Ever since hearing the news of Boston yesterday, I've been a tad bit emotional. And not just because of the horrible, sad circumstances but also because of the amazing tales of heroism and uplifting spirit that I've seen through facebook, news stories, twitter, other blogs, and well, everywhere.
I know, for me personally, that sense of community, of love, I found myself even more determined to lace up my shoes today. To show them (whoever they may be) that we will not be torn down by hate, but instead we will choose to be brought up by love.
..and let us run with endurance the race God has set before us. Hebrews 12:1
I held Lillie a little closer last night, I snuggled her a little harder & longer this morning (in fact, my hair is a hot-ass mess since I didn't take the time to actually do it) because I am grateful for what I have been blessed with. I don't ever want her to not follow her dreams because of the very few who wish to tear the human spirit apart.
I don't ever want to not follow my dreams because of those few.
I run for me. I run for her. And I damn sure run for Boston.