I decided to do something crazy. Something wild. Something insane.
I'm sponsoring this month's Runners Tell All! I know, cuh-razy, but I figured in honor of my birthday month (no shame in shouting out my own birthday – it's this Saturday by the way) I'd step a little out of my blogging comfort zone. Life is good when you're about to be twenty-fine (not a typo), so let's get started!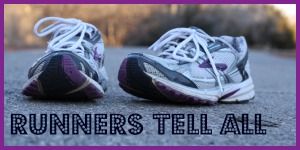 Training Routine.
This prompt couldn't have come at a better time seeing as I just started training for my fall races last week. I mostly took off from running over the summer because I had a
non-fractured foot
that was healing and wanted to
try my hand at weight lifting
.
For the past two years I've really enjoyed learning to love the run itself and haven't been crazy interested in getting faster. But then my marathon happened (
or didn't happen
) and I know if I would have been faster I would have completed the race – so I've decided to start from the bottom up. That 5k time is
going down
this fall.
Like all of you, I have a busy life - working full-time, being a mother to an incredibly awesome 3 year old and a wife to a very studly 31 year old – so in order to get my workouts in my best option is my lunch hour. It's not for everyone but I work in Higher Education and have the luxury of free access to the gym. It's literally a 2 minute walk from my office. My excuses are limited. Le sigh.
Today, I wanted to share with you a few of my training routine tips that help me get in and out of the gym in less than an hour and still looking somewhat presentable.
Pack your bag. I (really try to) pack my gym back the night before and put it in my truck – that way the excuse "I don't have my stuff" won't technically work. Especially when my mind is telling me I should take a nap in my truck instead. (For the record, lunch hour quickie naps are the best.)

If you're able, I would recommend renting a locker so you don't have to tote a ton of stuff every day. You can keep your essentials in there. A few things in mine are: deodorant, blow dryer (with a cool setting), dry shampoo, and extra hair ties/bobby pins. I also keep out my printed workout sheets as a fall-back plan (see #1) in a little pile that I can pull from if need be.

Things in my gym bag: clean dry underwear.

I don't know about you but I sweat like a chicken in a deep fry competition and to combat that, I need some clean panties. I just can't get behind butt-sweat. (See what I did there! ha!)

Other essentials in my bag: gym clothes, tennis shoes, O2 Gold, body wipes, towel, headphones, make-up bag.


Plan your workout. I can't stress this enough – know exactly what you're wanting to do when you get to the gym so you don't waste time wandering around wishing you were eating enchiladas instead. I usually write down my plan of attack on a small piece of paper or put it in the notes section of my phone.

Also, have a small inkling of a back-up plan in case the equipment you need is full or out-of-order. For me, the first few weeks of the new semester the gym is packed with all the new incoming students wanting to look fly,and I plan accordingly. Treadmills all taken? No worries, I'll hit up the stair master.

Since I work so close to my gym, travel time isn't usually taken into account, but I can generally get a solid 40 minute workout in – with the other 20 minutes spent on changing into and out of my gym clothes.


Shower or No Shower?

Um, can I be real with you guys? I totally don't take a shower after every workout. Sometimes I'm just not that sweaty to justify wasting 5 minutes rinsing off that could be better spent towards running an extra half mile.

On those non-shower days, I wipe myself down with a body wipe, apply deodorant, & body spray and BAM, smelling like an artificial rose in no time. On days when I look like this after my workout,

there's just no way around it despite my best efforts.

Looking Presentable.

I keep a blow dryer in my locker that has a cool setting on it (because let's face it, I ain't about to blast my body with HOT air after a speed session) and try to wrangle this hair situation I have. Sometimes my hair will have mercy on me and I can go for the beach wave look afterwards and let it dry naturally – most times, it goes in a braid or a bun.

For make-up, my face usually stays pretty red for about 20 minutes after a workout, so I'll throw some powder on, fix any smudged eyeliner or mascara and add some lip gloss. Boom. Nailed it.



I think the best tip I can give you is to keep it simple as possible. The more extras you throw in there, the less time you have to murder that workout.
Oh and I almost forgot to mention this month's giveaway!
Beka
is super adorable, am I right or am I right?
You can win an Under Armour Tank Top (fitted heat gear, size large) and headband just by following the prompts below!