It's another Tuesday, so you know what that means!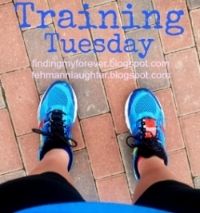 This link-up is just a way to talk about training [in any way, for anything] to help hold ourselves accountable and possibly brag a bit. I mean, you ran 1 mile without stopping – you totally deserve a chance to brag about it! That shit is hard. You did 10 push-ups in a row, HOLLLEERRR.
And even if you're not training for anything, you're just putting yourself out there to be healthier, to get slimmer, to
whatever
you can share it on Training Tuesday. Let's say you were sitting at home and instead of eating a carton of Oreos you instead ate 20 baby carrots and just imagined they were chocolate-y crèmey goodness [hypothetical situation, of course] – share it here!
Abbey & I don't discriminate – we congratulate.

Grab the button up above & link-up down below to let us know what's going on for your Training Tuesday (or any day really, linking up throughout the week is good too!)
My Training
3/19 – Nothing. I think I went to the grocery store during lunch? I don't know.
3/20 – WHY GOD WHY workout with Moj. We did stairs again. I told her though that I wanted to take it easier since I had my half on Saturday. 55 minutes of stairs at our own pace, but we still got our sweat on. And my calves were still sore. Damn stairs.
3/21 – Rest.
3/22 – Moj puppy-dog eyed me into another workout. I told her I only wanted to do upper body because of the half. She said, "Suuuureee thing, friend!" Basically, my arms are STILL on fire from Friday. Generally when we workout we go down to the free weight area, but this time we did a lot of different machines where we would do 20 pushups or plank in between.
3/23 –
BEARATHON
! I have another post coming up (hopefully this afternoon) and I'll update this to reflect that. Trust me, it deserves a post on its own. I PRed (Personal Record) on a course that had 5 miles of serious hills. I totally cried. And then I made a video. Yep, I vlogged that shit.
Edit:
Bearathon Post
!
3/24 – Bitch please. I just ran 13.1 miles I ain't doing nothing.
3/25 – See 3/24.
For this week, I'm just taking it easy. My hips are still a little sore from the half and to be honest, up until this morning (when I weighed myself, ha!) I had no desire to workout. I'll do my WHY GOD WHY with Moj tomorrow (stairs!) and Thursday she's convinced me to join her as well.
And so now, here I am. Trainingless. I don't have another race to commit too. I'll keep up shorter distances and continue working on my speed per my
New Year's Resolutions
. I can't not run – 1. I enjoy the shit out the way it makes me feel. & 2. I promised my friend Sunny that I'd run her first 10k with her at some point in the next few months. But I won't have a specific training plan to follow, so everything will probably just be willy-nilly all over the place.
Ha. Willy-Nilly.
I'm thinking for the month of April, I may focus on my willy-nillyness & doing Jillian Michael's 30 Day Shred. Then in May, starting up the Insanity workouts. Insanity is intense, and the 30 Day Shred should be a good pre-cursor for that to prepare my body. By the time I'm finished with that, we should be closer to the fall where more races will definitely be happening. The closer it gets to May/June the less opportunities there are to sign up for a close race. Why? Because it's Texas. And this shit is hot here.
Here's to keeping up the motivation even though I'm trainingless (I have to tell you, it feels pretty awesome to not be tied down to a schedule finally!)