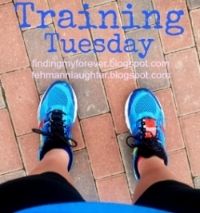 This link-up is just a way to talk about training [in any way, for anything] to help hold ourselves accountable and possibly brag a bit. I mean, you ran 1 mile without stopping – you totally deserve a chance to brag about it! That shit is hard. You did 10 push-ups in a row, HOLLLEERRR.
And even if you're not training for anything, you're just putting yourself out there to be healthier, to get slimmer, to whatever you can share it on Training Tuesday. Let's say you were sitting at home and instead of eating a carton of Oreos you instead ate 20 baby carrots and just imagined they were chocolate-y crèmey goodness [hypothetical situation, of course] – share it here!
Abbey & I don't discriminate – we congratulate.
Grab the button up above & link-up down below to let us know what's going on for you Training Tuesday (or any day really, link up throughout the week is good too!)
My Training
2/26 – 3 miles. 42 minutes. I had absolutely no desire to run. In situations like that when my mind is working against me & I'm having a hard time getting going I count on social media. If I post it out loud, typically I'm going to do it. I walked a lot during these miles, but it helped get my butt in gear for the rest of the week.
2/27 – WHY GOD WHY Wednesday with Moj. Another great way to get going is to have someone to work out with. If I didn't have Moj, I probably would have avoided it. We did 45 minutes of stairs at our own pace but we either used 4 lbs hand weights or a resistant band at the same time to get an upper body workout. My triceps & shoulders burned like a mofo. We followed it up with a 100 push-ups. YES. You read that right. I did 100 push-ups and not one of them was from my knees. I had to take them 10 at a time, but they were done. BOOM.
2/28 – 2.5 miles. 31 minutes. Just running to shake out my legs from Wednesday's workout.
3/1 – I had planned on working out with Moj again for a tabata workout, but something came up & she couldn't do it. I had packed a pair of shorts so I couldn't run [chub rub!]. Instead I hung out on the stationary bike – 7 miles in 31 minutes. I don't know if that's good or not, but I got my heart rate up. Anyone know anything about biking?
3/2 – Gut Pak Run. I'll do a follow-up post about this tomorrow. It's 2.2 miles. You run to a BBQ joint, eat food & run back. My friend Sunny & I signed up for it just as something fun to do and to see if we'd poop or puke ourselves. Spoiler Alert: We didn't.
3/3 – I think I mentioned last week that I kind of suck at doing my long runs on Sunday this training go around. I just don't want too. So, I didn't. We went to church, then to My Emilie's for lunch & a mini-Twilight marathon. We watched the first two movies before I had to suck it up and go back home to do our always multiplying laundry.
3/4 – With the Bearathon only a couple weeks away [eek!] I opted to take off work a little early & head to the gym to make sure I got my miles in. I had planned for 8, but got out of the office a little later than I anticipated. I made it to 7 before I had to pack up and go get the kiddo. My pace was 13:31 for it, which is usually where I sit when it comes to long runs. I'll take it. With this upcoming half & the hills of death attached to it, my goal is to simply finish it. I'm not going into it with high hopes of a PR. If it happens, YAY! If it doesn't, YAY!
Okay, link-up and let us know how your training is going!