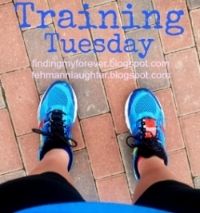 This link-up is just a way to talk about training [in any way, for anything] to help hold ourselves accountable and possibly brag a bit. I mean, you ran 1 mile without stopping – you totally deserve a chance to brag about it! That shit is hard. You did 10 push-ups in a row, HOLLLEERRR.
And even if you're not training for anything, you're just putting yourself out there to be healthier, to get slimmer, to whatever you can share it on Training Tuesday. Let's say you were sitting at home and instead of eating a carton of Oreos you instead ate 20 baby carrots and just imagined they were chocolate-y crèmey goodness [hypothetical situation, of course] – share it here!
Abbey & I don't discriminate – we congratulate.
Grab the button up above & link-up down below to let us know what's going on for you Training Tuesday (or any day really, link up throughout the week is good too!)
My Training
3/5 – Rest Day/Fat Day. I don't know what was wrong with me but I just didn't have it in me to go workout on my lunch break. My heart or mind wasn't in it, so I went and grabbed a few items from the grocery store and took a power nap before heading back to work.
3/6 – Another WHY GOD WHY Wednesday with Moj (pronounced Mow-sh). Again, we did stairs (40 minutes) and much like Tuesday I just struggled. This workout should have been easier than last week's but my entire body felt like lead. We ran up 4 flights and then walked down, ran up & walked down. We talked a lot about food and why I wasn't seeing progress in my weight loss endeavors that I thought I should be. Plan on seeing another #weighthate post sometimes this week. Sigh.
3/7 – Another Moj workout on the books. I hadn't planned on working out with her, but I'm just a girl who can't say no…
From dailymile:
3/8 - I downloaded an app called Charity Miles per Breenah's recommendation on Twitter last week. Basically, for every mile you run (it also offers walking & biking) you earn 25 cents that goes towards a charity. It works off of GPS, so if you're dreadmilling running, it won't work. I figure if I'm going to run outside, I may as well do good by it. You can still listen to your own music too if you own an iPhone. (Not sure how it works with Androids.) I ran 2.51 miles and walked half a mile to make it an even 3 for my charity.
My average pace was at 12:15. I'm getting really excited at the possibility of PRing in the 5k this year. I wasn't sure if it was even do-able when I mentioned it in my resolutions.
3/9 & 3/10 – I spent more time with Emilie at her house than I did at my own. We finished up our Twilight marathon & watched The Hunger Games again. Seriously, I am in love with J. Lawrence. Oh, wait is this about training? Yeah, none of that happened this weekend.
3/11 – I'm scheduling this post a day ahead, but the plan is to go run 10 miles in oh, about 30 minutes. I'll be having a mom & Lillie day tomorrow and not exactly sure if I'll have computer access. If I do, I'll edit this portion to let you know if I did, indeed, make it the 10 miles or if I died in the middle of it. (It's about 50/50 at this point).
Edit: I made it 10 miles! What what! I ran the first 5 outside and the second 5 inside on the dreadmill to break it up a bit and work on speed with my already fatigued legs. I figured it would be a good way to mentally work up to those hills in just 11 days. And trust me, I was over it by mile 7.
I'm really proud of my first 5. That's the fastest I've ever ran that far. (Does that make sense?)
With the exception of Mile 2, all under 13. I don't know if I'd be able to sustain that through 13 miles but I think based on this and based on the Zoo Stampede that I did last year that goes through the same hills, I'm going to shoot between 13:00 and 13:30 for each mile. Fingers crossed.
This will be my last long run before the Bearathon on the 24th. Next weekend, I think I'll knock it down to 5 miles for my long run (in my original training plan I had 9 miles this week and 10 miles next) to keep my legs rested. I know the hills are going to tear me up during it, so I want to go into it as refreshed as I can. Like I've mentioned before, my goal for this half-marathon is to not PR but just finish to say "I fucking did it." It was this time last year when I really started enjoying running & it's kind of a full-circle thing at this point.
Future Training
Once I'm done with the Bearathon I do not have another half-marathon in my books. I don't intend to have one either (but who knows with me) since I want to really focus on my shorter distances and building up speed. I'm also planning on jumping into Insanity again. If you've been around for a while you may remember that I did Insanity for a month with great results but had to quit early to focus on my running goals during the last half of the year.
Have any of you done Insanity, or a similar program? Would you be interested in posts/vlogs about it?