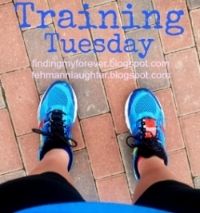 This link-up is just a way to talk about training [in any way, for anything] to help hold ourselves accountable and possibly brag a bit. I mean, you ran 1 mile without stopping – you totally deserve a chance to brag about it! That shit is hard. You did 10 push-ups in a row, HOLLLEERRR.
And even if you're not training for anything, you're just putting yourself out there to be healthier, to get slimmer, to whatever you can share it on Training Tuesday. Let's say you were sitting at home and instead of eating a carton of Oreos you instead ate 20 baby carrots and just imagined they were chocolate-y crèmey goodness [hypothetical situation, of course] – share it here!
Abbey & I don't discriminate – we congratulate.
Grab the button up above & link-up down below to let us know what's going on for your Training Tuesday (or any day really, linking up throughout the week is good too!)
My Training
3/12 – It was Spring Break on campus, so I took the day off to enjoy with Lillie (we did come into work for a bit to visit); I thought I might work out during her afternoon nap but I chose to clean instead. Sometimes I'd rather be clean than fit. Truth.
3/13 – Lunch with Jenna – where I made awesome healthy food choices but no working out.
3/14 – I don't remember why I didn't work out, but I didn't. So, I had 3 rest days.
3/15 – My mind was not feeling any type of workout but because I knew I wasn't going to do anything this weekend (not because I was too busy, just because I didn't want too. Yes, sometimes I'm lazy.) so I forced myself to head to the gym. I did some hill training for 2 miles on the dreadmill.
3/16 – 3/17 – I drank too much (no kid, yay! #saidwithloveipromise) All my awesome hard work of eating well throughout the week, totally gone with a 6 pack of Bud Light. I did have a great time bowling & catching up with friends though, so it wasn't a total loss.
3/18 – 2.25 miles on the dreadmill.
I'm keeping this week "light" because Saturday is the Bearathon. I woke up yesterday morning incredibly nervous. Like more nervous than I was with my first half. I want to think it's because this is so close to home (only 30 minute drive) and I'm familiar with the turf, but in reality – I think I'm so nervous because I've been working towards this half-marathon since last year when I competed in the 5k portion of this race. Which means, not only have I been officially running for a year but I've also been enjoying it. I have a lot more to say on this topic, in fact, typing out this little bit is a little emotional for me already, so more on this in a future post.
Wow. Did I just get emotional about running? #whoami
In other topics, I talked yesterday about my relationship with food. Basically, it's delicious & I have no self-control. Oops. But I've been making an honest effort, not just one where I pretend to do good 40% of the time & whine about nothing working, these past three weeks using My Fitness Pal (tracking everything I eat) and eating better per my goals for Abbey's Forever Fitness Challenge.
After the Bearathon, I don't really have anything on my race schedule. So, if you're nearby and want a running buddy (pick me! pick me!), or you're faraway and want/need an online supporter – let me know. #motivationstation
I love to cheer people on. It's like my crack.
Haha, I said crack.