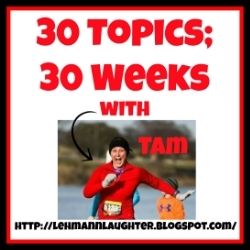 I kind of suck sometimes at blogging. Like, for example, I totally missed my own link-up last week. Yep, totally made it to Friday before I realized. I'm a winner like that. I'll stick with today's topic and tomorrow (Thursday, May 28th) I'll post the topic from last week I missed – join me if you can! Sorry for the confusion.
If you're new here, this link-up is every Wednesday and it's based off these two articles – here and here. You are welcome to take the points in any direction you choose, what I go off of is only something to get the ol' brain ticking. Original post is here.
Previous posts: Week 1, 2, 3, 4, 5, 6, & 7.
Week 9!
I feel like from a young age I was taught that I had to have a dream to pursue. Would I be a lawyer? How about a doctor? An opera singer? An actor? Once I found that dream, I should continue on that path until it was a reality. I had to make goals to get there and anything that got in the way – well, it should be thrown to side because it's all about the end goal. Not about the ride to get there.
And really, it's life – every day is the ride – and what's wrong with stopping to enjoy the scenery once in a while? I think it's easy to get caught up in the – well, let's wait until we have more money, more stability, less debt, etc – mindset when you're in a relationship with someone who wants the same goals out of life as you.
For both Alfred & I, we've always wanted to be financially stable enough to go on vacations without a worry, to own our own vehicles, home, etc without living paycheck to paycheck. When we decided to start a family we revisited this goals while adding new ones (what/how we want Lillie to grow up). We've succeeded in a lot of our personal & family goals but have also passed on a lot of great things because it didn't coincide with the long term or it would set up back from the original plan. Having Lillie really opened up both of our eyes as to how quickly life passes you by – and how much of it you miss because you're too busy in the future instead of the present.
I've slowed down to enjoy the moments now, and I feel mostly satisfied in where I'm at in my life. I say mostly because I'm currently on my own spiritual journey (getting closer to Christ) and I'm not satisfied with the knowledge I have now – I want more, so that I can share that with Lillie when she gets older and begins to question things. I don't want to only lead by example, I want to lead by knowledge. I mean, after all, it is power, right? :)