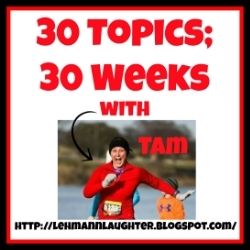 Starting tomorrow, every Wednesday for the next 30 weeks I'll be hosting a link-up based on the following two articles from Marc and Angel Hack Life.
30 Things To Stop Doing To Yourself
30 Things To Start Doing For Yourself
Go ahead and read them both, it won't take longer than 5 minutes, promise.
You good? Okay, great.
I've been subscribed to Marc & Angel for about two years now and even if you don't participate in this link-up, they have some really great insightful posts they share on the regular – highly recommend adding this to your daily reads.
When I read these articles, a lot of the things mentioned seemed to strike a chord with me. I found myself nodding along in agreement, reminding myself of memories, or moments or my life in general. Over the past two years my blog has mostly morphed into a running shack of race recaps, personal bests and my fitness goals and I love it for that. However, I'd like to branch out a little bit and having writing prompts via link-up seemed like a good place to start.
To download your own copy or just to see it better – you can click here.
Feel free to use the titles I've mentioned (in red) or to use the prompts (in black) as a starting block to what you want to write about. These things are not concrete. You do not have to write your post based on the questions I posed – I just wanted to put some ideas out there in case you were struggling. I would highly suggest looking over the two articles mentioned above and doing your own take on their topics.
For example: On the April 2nd post – Who Do You Spend Time With? – you may want to write about your family members and describe your relationship or maybe instead you want to talk about how you struggle with finding time for those that matter. Honestly, it's however you want to take it. Be as creative as you want.
Once you've published your post, just come back here and link-up to share your musings.
Guidelines:


Write an awesome post every Wednesday for the next 30 weeks.

Link up. (I'll try to have my post up by 8am)

Don't be a jerk.

Check other contributors out and comment.
Easy peasy. If you have any questions, shoot me an email. Otherwise, I'll see you guys here tomorrow. Can't wait!