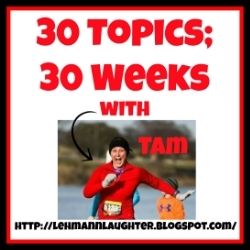 If you're new here, this link-up is every Wednesday (until the 30 weeks are up) and it's based off these two articles – here and here. You are welcome to take the points in any direction you choose, what I go off of is only something to get the ol' brain ticking. Original post is here.

I hope you'll join me!

Previous posts: Week 1, 2, 3, 4, 5, 6, 7, 8, 9, 10, 11, 12, 13 & 14.

Week 15!

Who is your biggest competitor?
Do you compete with yourself or with others?

I've struggled with comparing myself to others – especially in this social media focused world – but overall, it's usually with myself. Of course, the first thing I think of is running. Over the past couple of years, I've pushed myself harder and further than I ever dreamed. And I did it all while maintaining a below average running pace despite the fact that I'm young and in decent shape. And you know, had people pushing two kids in strollers passing me while on the phone.
But when doubts started to creep in, I'd just remind myself at how far I have come – one of the perks of blogging about it for sure. I'd just be able to look back at my previous times or race recaps and instantly be transported to my first 10k, or half, and that was enough for me to keep pushing through.
Who do you compete with?